Thursday, September 13, 2012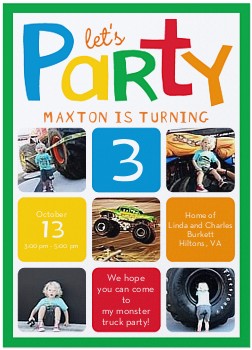 Let's Party Boy Birthday Invitation

Posted by

kelseyk
at 5:49 PM
No comments:

Sunday, September 9, 2012
Today was a beautiful day. Sunny and so much cooler. I love fall and today you could feel fall in the air. After nap time we decided to take a hike into the woods beside our house. Before we left we talked about what we might see in the woods. Max really was hoping to see a turkey. We saw many of the things we discussed earlier and even discovered a few surprises. We collected treasures along the way. It felt good to be outside and do something simple as a family. I have a new lens so I took a bunch of "practice" photos.
Maxton is really good at spotting letter shapes in everyday items. Today he found an X and a Y.
When we got home me made a "sticky board" to display our treasures. To make a sticky board just use the sticky side of clear contact paper. We had to use a little clear tape on some of the heavier pieces.
No turkey today, maybe next time.....
Posted by

kelseyk
at 4:49 PM
No comments: